Cylindrical Knob Type Weights 10kg To 1 g With Loading Hole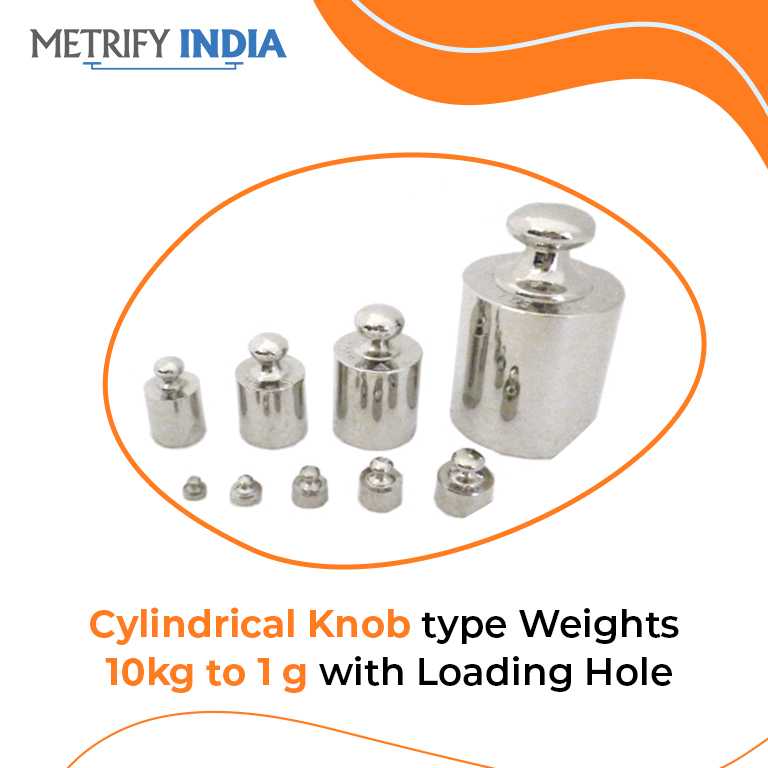 Introduction:
Cylindrical knob type and other weights, measuring instruments, etc. that are universally used are also guided by the specifications of the 'International Organization of Legal Metrology' (OIML) – a worldwide, intergovernmental organization whose primary aim is to harmonize the regulations and metrological controls applied by the national metrological services, or related organizations, of its Member States. (4). Here, Cylindrical knob type weights are mentioned as 'Class M weights' in the OIML R 111-1: 2004 (E). (5)
In India, the Directorate of Legal Metrology – which is a separate wing under the Department of Consumer Affairs, Food & Civil Supplies, Government of India – enforces the Legal Metrology Act & Rules through the Director at the Centre and the Controllers of the States for effective enforcement of the provisions of the Legal Metrology Act 2009 and the Legal Metrology (General) Rules, 2011. (6)
The Fifth schedule of the Legal Metrology Rules, 2011 deals with weights other than carat weights and includes the following:
Iron weights, parallelopiped (50 kg to 5 kg)
Cylindrical knob type weights (10 kg to 1 gm)
Iron weights, hexagonal (50 kg to 50 g)
Bullion weights (10 kg to 1 g) and
Sheet metal weights (500 mg to 1 mg)
Cylindrical knob type weights can be made from brass, gun metal or bronze; for weights from 10 kg to 200g grey cast iron may be used but these must not be used for weighment of gold, silver, precious metals or their products. They must be provided with a flattened knob for ease of handling. These weights shall be in a Gram series: 500, 200, 100, 50, 20, 10, 5, 2 and 1g and in the Kilogram series: 10, 5, 2 and 1. They shall be polished smooth and may be protected against corrosion by applying an appropriate coating that is resistant to normal usage and wear and tear.
Calibration:
To account for occasional deviations in accuracy, a cylindrical loading hole is to be provided only for weights of 10 kg to 20g both inclusive that passes through the axis of the weight with an opening on the upper surface of the knob. This loading hole shall be closed either by a threaded brass plug or a flat brass disc.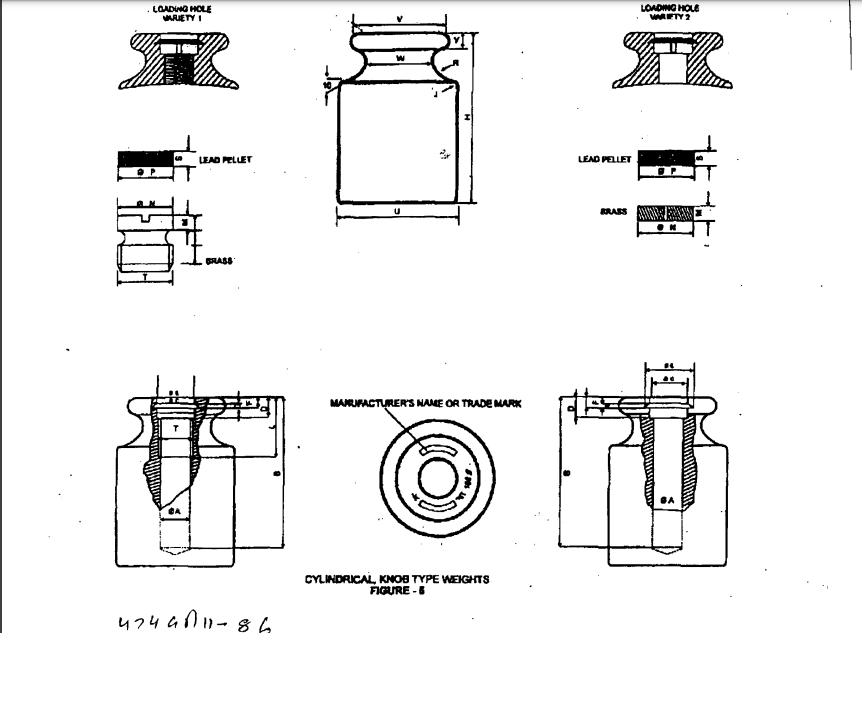 Source: Fig.5, Legal Metrology (General Rules) 2011 page 25 (341). (ref.)
Summary
:
As can be seen from the above, the use and maintenance of cylindrical knob type weights requires periodic monitoring and adjustment by qualified personnel from an authorized agency and with knowledge of Legal Metrology. Only qualified agencies are permitted to service the weights and rectify as per need.(7) Use of unverified weights and measures results in a fine of Rs.2000/- to Rs.10,000/- and additional 1 year imprisonment for a second or subsequent offence. (8)
References:
 

US Smithsonian Museum object.

 UK Science Museum object.

 UK Science Museum object.

 

International Organization of Legal Metrology (

OIML

) OIML R 111-1 (E) Edition 2004.

 

International Organization of Legal Metrology (

OIML

) page 15.

 The Legal Metrology Act, 2009,

Section 24, Chapter IV

 https://megweights.gov.in/acts/Legal-Metrology-General-Rules-2011.pdf