Iron Weights Parallelopiped 50 kg to 5kg Type 1 and 2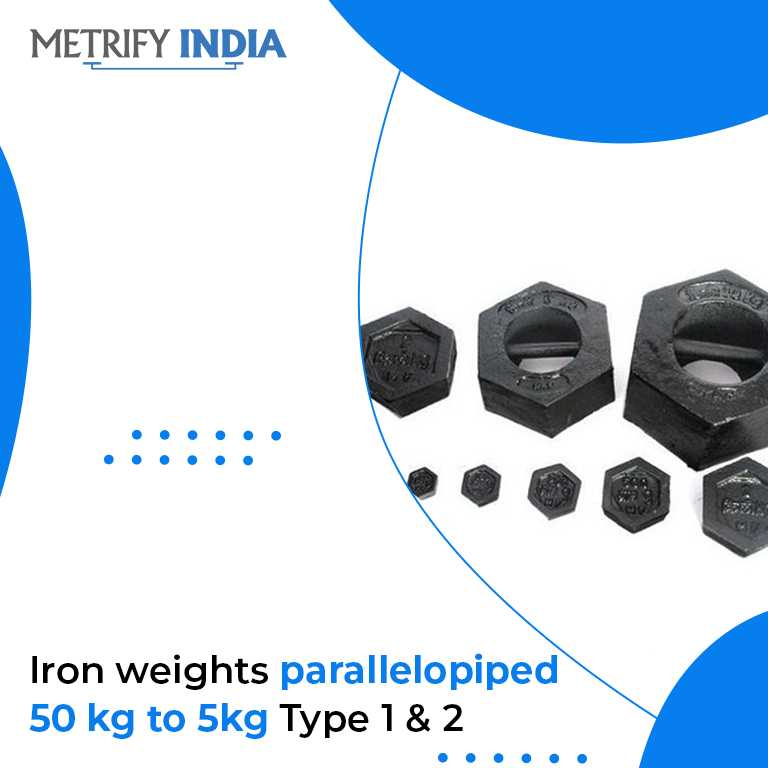 In India, the Directorate of Legal Metrology – which is a separate wing under the Department of Consumer Affairs, Food & Civil Supplies, Government of India – enforces the Legal Metrology Act & Rules through the Director at the Centre and the Controllers of the States for effective enforcement of the provisions of the Legal Metrology Act 2009 (4) and the Legal Metrology (General) Rules, 2011. (5)
History:
Square and parallelepiped weights were commonly found in Egypt and appear rather conspicuously in Naukratis (Petrie 1886, pl. XXIII). (1)
Introduction:
Parallelopiped and other weights, measuring instruments, etc. that are universally used are also guided by the specifications of the 'International Organization of Legal Metrology' (OIML) – a worldwide, intergovernmental organization whose primary aim is to harmonize the regulations and metrological controls applied by the national metrological services, or related organizations, of its Member States. (2). Here, parallelepiped weights (50 kg to 5 kg) are mentioned as 'Class M weights' in the OIML R 111-1: 2004 (E). (3)
The Fifth schedule of the Legal Metrology Rules, 2011 deals with weights other than carat weights and
includes the following :
(a) Iron weights, parallelopiped (50 kg to 5 kg)
(b) Cylindrical knob type weights (10 kg to 19)
(c) Iron weights, hexagonal (50 kg to 50 g)
(d) Bullion weights (10 kg to 1 g) and
(e) Sheet metal weights (500 mg to 1 mg)
The parallelepiped weights must be made of grey cast iron, have a parallelepiped shape with a rigid non- projecting handle of standard diameter for gripping. Type 1 weights have the handle of seamless steel tubing whereas in Type 2, the handle is also of cast iron, integral with the body of the weight.
Calibration:
To account for occasional deviations in accuracy, Type 1 and Type 2 weights are further required to have a 'loading hole' i.e. an internal cavity in the steel handle with an opening on the upper surface that is normally closed by a screwed brass plug or disc with a screw driver slot for removal but otherwise sealed by a lead pellet driven into a recess. Post adjustment of the new weight by means of lead shot, two thirds of the total volume of the cavity is kept empty.
Display markings:
The commercially used weights shall display on the upper surface of the central portion of the weight, the manufacturer's name or trade mark either as embossed or sunken form, with the denomination Indicated in the International form of Indian numerals in an indelible manner indicated in the form: 5 kg, 10 kg, 20 kg, 50 kg.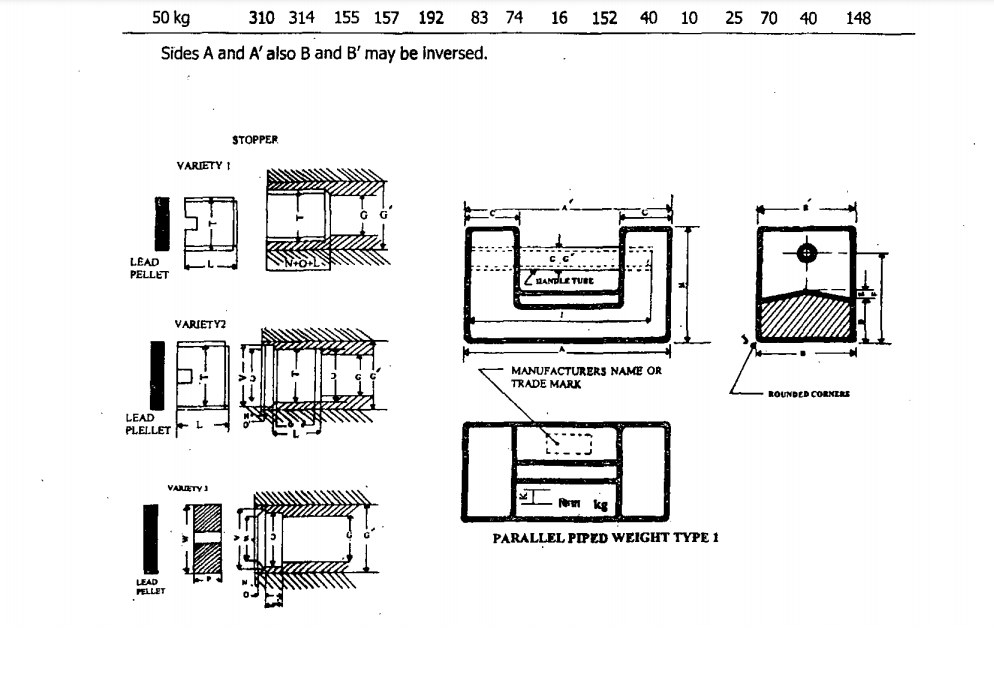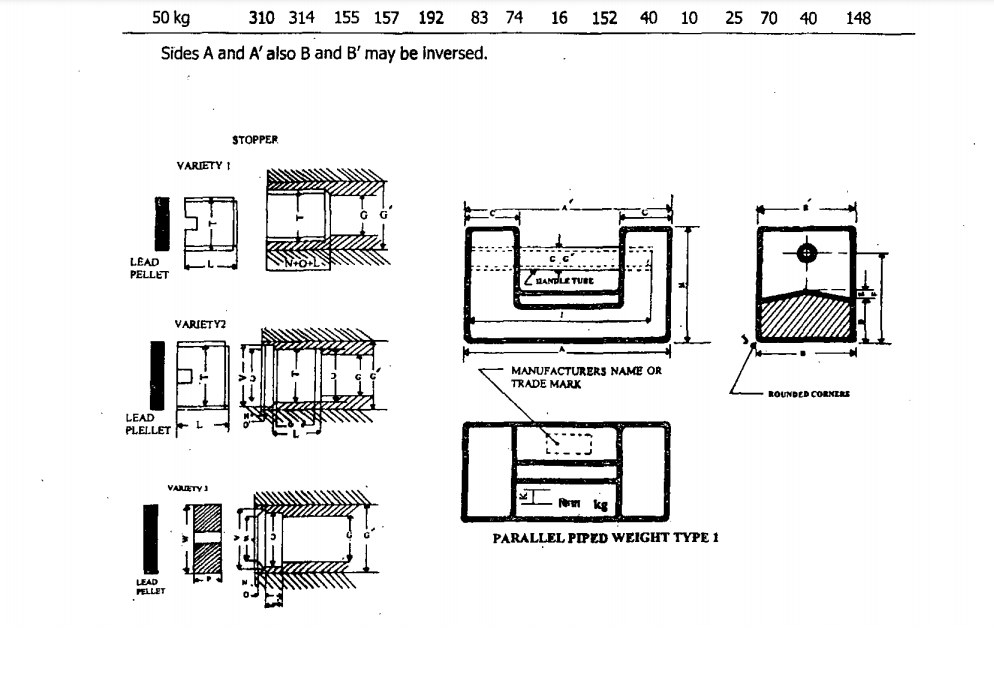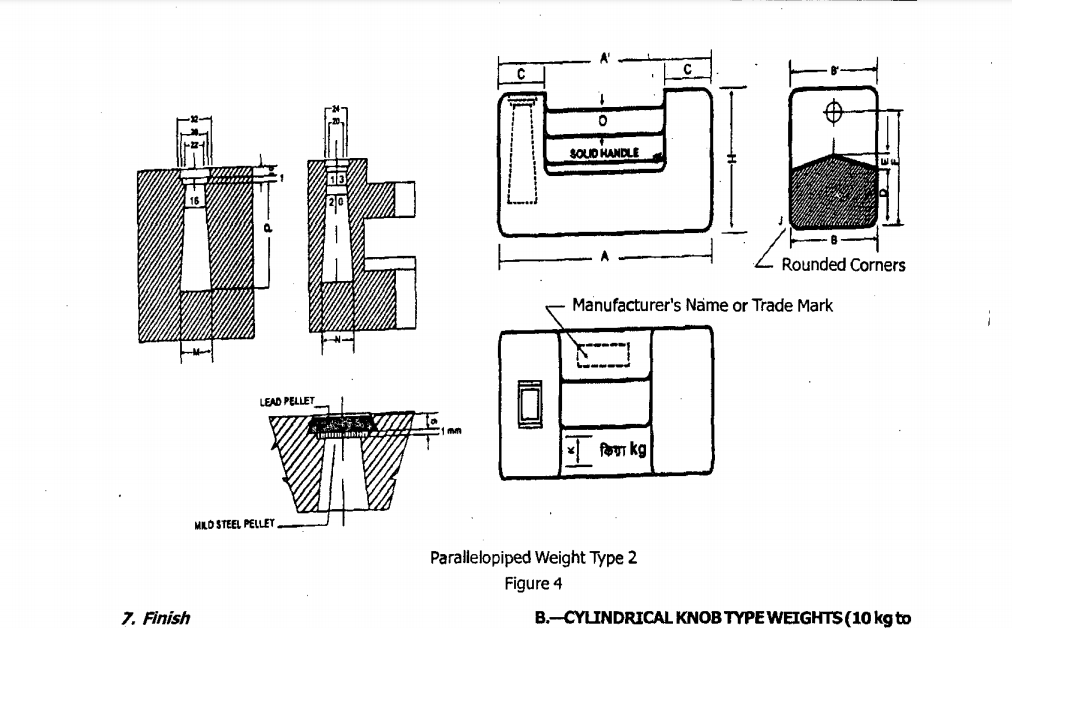 Source: Fig.3, Legal Metrology (General Rules) 2011 page 21.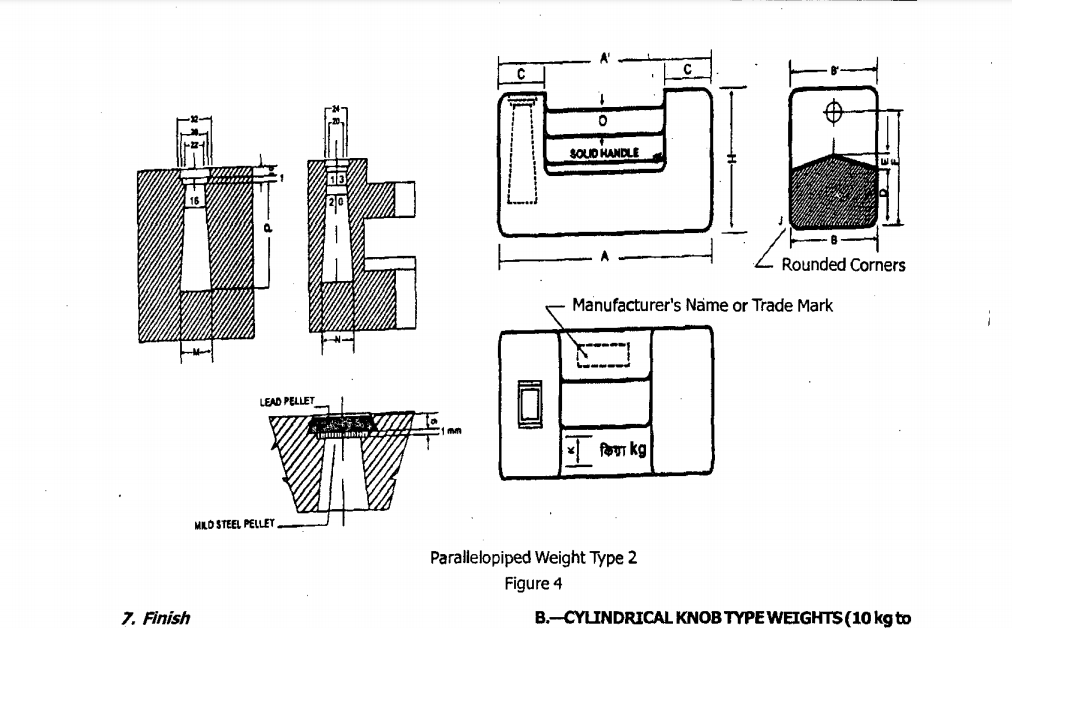 Summary:
As can be seen from the above, the use and maintenance of parallelepiped weights requires periodic monitoring and adjustment by qualified personnel from an authorized agency and with knowledge of Legal Metrology. Only qualified agencies are permitted to service the weights and rectify as per need. (6). Use of unverified weights and measures results in a fine of Rs.2000/- to Rs.10,000/- and additional 1 year imprisonment for a second or subsequent offence. (7)
References:
 British Museum object
 International Organization of Legal Metrology (OIML) OIML R 111-1 (E) Edition 2004.
 International Organization of Legal Metrology (OIML) page 15.
 The Legal Metrology Act 2009
 The Legal Metrology (General) Rules, 2011.
 The Legal Metrology Act, 2009, Section 24, Chapter IV
 The Legal Metrology Act, 2009, Section 25, Chapter V
Enquire Now
To enquire about our services please complete the form below and we will be in tough with you as soon as possible
Food Regulatory Services
Consumer Product
Compliance Services
Licenses