New Draft Guidelines For Misleading Advertisements Released By Consumer Affairs Of India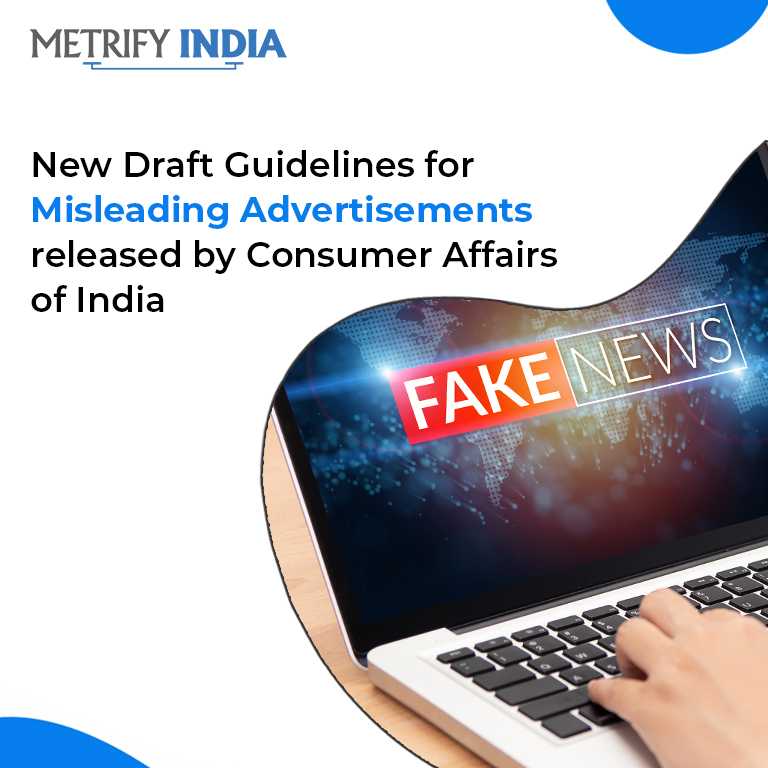 Various companies sell mediocre products, using wild claims like "scientifically proven" with "guaranteed results. The consumer gets lured by these tall claims in advertisements and remains misinformed. For this reason, recently, the Central Consumer Protection Authority (CCPA) has released extensive guidelines to regulate misleading advertising and clamp down on false claims and practices. The new regulations will be under Prevention of Misleading Advertisements and Necessary Due Diligence for Endorsement of Advertisements) Guidelines, 2020 on September 06, 2020. These draft Guidelines aim to keep an eye on any misleading ads that may be harmful to the public interest.
These guidelines cover all form, format, or medium of advertising and marketing communications. These regulations also apply to the manufacturer/service provider whose products/services are the subject of the advertising or marketing communications and advertisement agency and endorser (wherever applicable) of the product/service. Thus, any claim made by a brand should be authenticated. All companies are urged to review their current communications to avoid legal consequences in future. Moreover, the draft Guidelines also provide detailed restrictions on advertisements related to children, disclaimers on products and services.
Seven Requirements of 'Valid' Advertising:
Must convey honest and truthful representations

No exaggeration of the key features of the product for misleading consumers

Should not portray the basic rights of a consumer as a feature in the product

Not showing universal acceptance if it is not present

No misleading act so as to harm consumer's personal security

Unoffensive to the accepted standards of public decency generally

If there is any unintentional lapse in the fulfilment of a claim by company, be made good later by prompt action by the advertiser or seller or by showing that the specimen product satisfies the claims. Hence, such unintentional lapse may not completely invalidate the advertisement and give the advertiser or seller a chance to make good, the deficiency in his product.
Other key takeaways of the guidelines:
Intellectual Property laws and advertisements: Copy of Advertisements or imitating are not permitted like same layout, music, sound or visual effects as they may confuse the consumer
Comparative advertising is permitted where factual and subject of the comparison are not of a nature to reveal an unjustifiable advantage upon the advertiser.
The draft Guidelines, elaborately discuss the restrictions on Bait Advertisements, which are basically, advertisements to display products that are not meant to be sold at the offered price but are only displayed to entice customers.
Surrogate Advertisement:
The draft Guidelines prohibit Surrogate Advertisements. Advertisements for goods or services whose advertising is otherwise prohibited or restricted by law shall not circumvent such restrictions by purporting to be advertisements for other goods or services, the advertising of which is not prohibited or restricted by law. If an advertisement is a surrogate or not, will be decided upon the basis of whether the unrestricted product which is being advertised is being sold in reasonable quantities
Advertisements for goods or services whose advertising is otherwise prohibited or restricted by law must not circumvent the restrictions by purporting to be ads for other goods or services.
The draft Guidelines allow puffery or exaggeration), if, it is stated that any objective claim made in an advertisement shall be supported by evidence and be capable of substantiation.
According to the draft Guidelines, an advertisement must not describe a good or service as 'free', 'without charge' or similar if a consumer has to pay anything other than the unavoidable cost of responding to the advertisement and collecting/paying for the delivery of the product. Advertisements shall not use the term 'free trial' to describe a 'satisfaction or your money back' offer or an offer for which a non-refundable purchase is required.
Advertisements targeted at children products should not condone or encourage behaviour that is harmful for children to copy, nor should they include a direct impulse to purchase a good or service or persuade their parents.
Where an advertisement represents, directly or by implication, that the endorser is an expert with respect to the endorsement message, then the endorser's qualifications shall, in fact, give the endorser the expertise that he is represented as possessing with respect to the endorsement. Any expert endorsement shall be supported by an actual exercise of that expertise in evaluating product features or characteristics with respect to which he is an expert and which are relevant to an ordinary consumer's use of or experience with the product. Provided that an expert may, in endorsing a product, take into account other factors, not within his expertise, particularly subjective factors such as taste or price.
Overall, companies should not create deceptive and false advertisements at the expense of consumers, or that raise health and safety concerns and cause economic injury. The comments and reviews of the public can be submitted to the Ministry by September 18, 2020 by email to dscpu-ca@nic.in. The comments and reviews of the public can be submitted to the Ministry by September 18, 2020 by email to dscpu-ca@nic.in.
References:
Draft guidelines for stakeholders consultation.pdf. Available at: https://consumeraffairs.nic.in/sites/default/files/file-uploads/latestnews/Draft%20guidelines%20for%20stakeholders%20consultation.pdf .Accessed on 7 th December, 2020.
Enquire Now
To enquire about our services please complete the form below and we will be in tough with you as soon as possible
Food Regulatory Services
Consumer Product
Compliance Services
Licenses